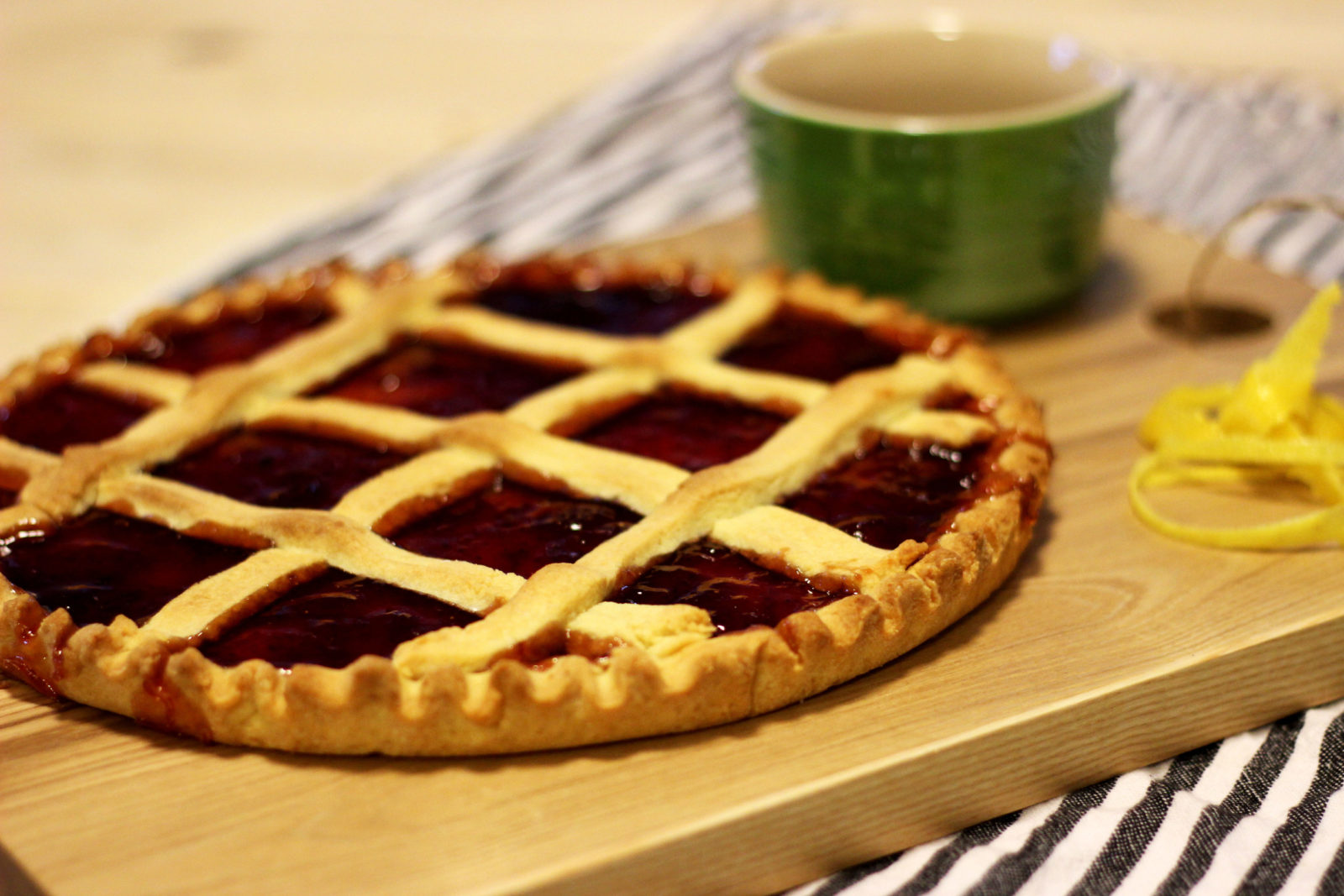 This is THE cake! It brings up so many memories…. My Mum was not very creative herself, but she loved following new recipes from the books and from friends. I have a book back home in Italy that I deem super precious because it contains all my Mum's hand written recipes on top of the book content. Well, this was my brother's and my favourite cake. Buttery, sweet but not too much, with our favourite jam…tradition is that if you don't share the raw pastry with your loved ones (this included a teeny tiny piece for the cat, I know it is wrong but at the time it seemed super funny), then the result wouldn't have been good enough.
So, for me, tasting&smelling raw pastry and strawberry jam, brings me back to the time I was around 10, learning how to cook, and inevitably it cheers me up. The cat died of age, by the way, but this is still the dish I prepare when I want to get closer to my family, and the only dish that my brother asked me to teach to his wife.
Ingredients
250g all purpose flour
120g unsalted butter softened
120g sugar (brown or white, depending on your taste)
1 egg
1 pinch of salt
1 x lemon zest
150g jam of your choice, I used strawberry
In the mixer, quickly combine flour and butter to create a crumbly mixture. Aside, whisk 1 full egg with the sugar, the salt and the lemon zest. Normally I whisk until fluffy and white. Add the mixture to the flour and butter and process altogether for 1 minute top, transfer the pastry on a floured board to finish kneading quickly, wrap in tin foil (or clinging paper) and let it rest for 30 minutes in the fridge.
Once rested, roll out the pastry on a baking paper sheet, saving a bit for decoration, transfer on a tart mould (traditionally round but any other shape is perfect as well). Prick all over with a fork, and spread the jam. Add some decoration on top, and cook for around 25 minutes at 180°. Once golden brown, take it out from the oven and let it cool for 20 minutes before eating. Believe me, it is for your own safety: I tried it once without waiting and now I know what's like to eat lava. You can serve it warm or cold, and keep it out of the fridge for a couple of days. You can also freeze the cake or the raw pastry, it works anyway. If you feel particularly fancy, you can add some whipped cream, but I prefer it plain with a nice cup of black tea.
Today's soundtrack, directly from memory lane, is a compilation of Lucio Battisti, Zucchero Fornaciari (before the year 1999) and Umberto Tozzi. Yeah, not exactly Mozart, but you know, after all it was the 80's….