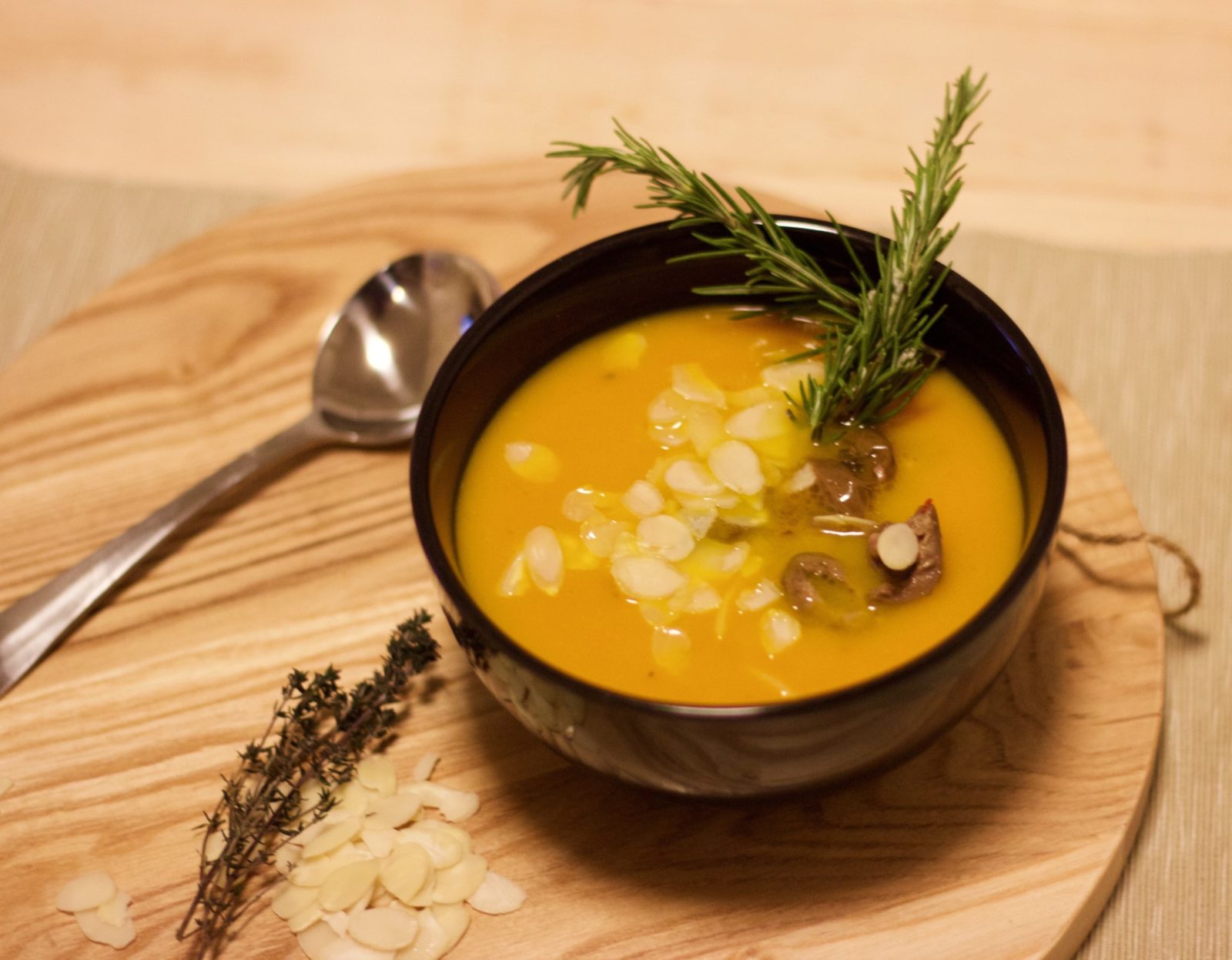 Winter, cold (at least here downunder), pale sun… It's soup time! I absolutely love soups, first of all because they are heartwarming and tasty, but also because they are soooo simple to make. It is a lovely way to present veggies to kids, they are full of colours and with the help of a blender, smooth and silky. When I first met my husband, the only way I had to make him eat veggies was to cook and mix everything, and never tell him what was inside. Now he is a Broccoli lover by the way, so mums there is hope for everybody, trust me! This recipe is a little bit different from a standard pumpkin dish, it is 100% vegan and has next to no fat, besides you can personalise it as much as you want!!
Ingredients – Serve 4
500g Butternut Pumpkin (Okkaido, Delica or any other variety with firm flesh), diced
1 Onion, diced
1-2 Garlic cloves, diced
1-2 Rosemary springs
1-2 Thyme springs
2 Tbs Kalamata olives diced
2 Tbs sliced toasted almonds
Extra virgin olive oil
Salt
Pour 1 tbs Extra virgin olive oil on a pot, turn up the heat, and add the diced onion. Once the onion is golden brown, add the pumpkin and quickly stir-fry (1 minute is enough). Turn down to medium heat, add the garlic, the salt and cover with water.  Add then the rosemary&thyme, take to the boil and cook on medium heat until the pumpkin is soft.
Take out the rosemary and thyme, and blend until smooth and glossy. No need of any cream here, the soup will be rich enough, I promise!
Serve hot garnished with the olives and almonds and a little olive oil. Voila'!
And for today, I recommend From Finner, by Of Monster and Men to prepare this super easy dish. Enjoy!