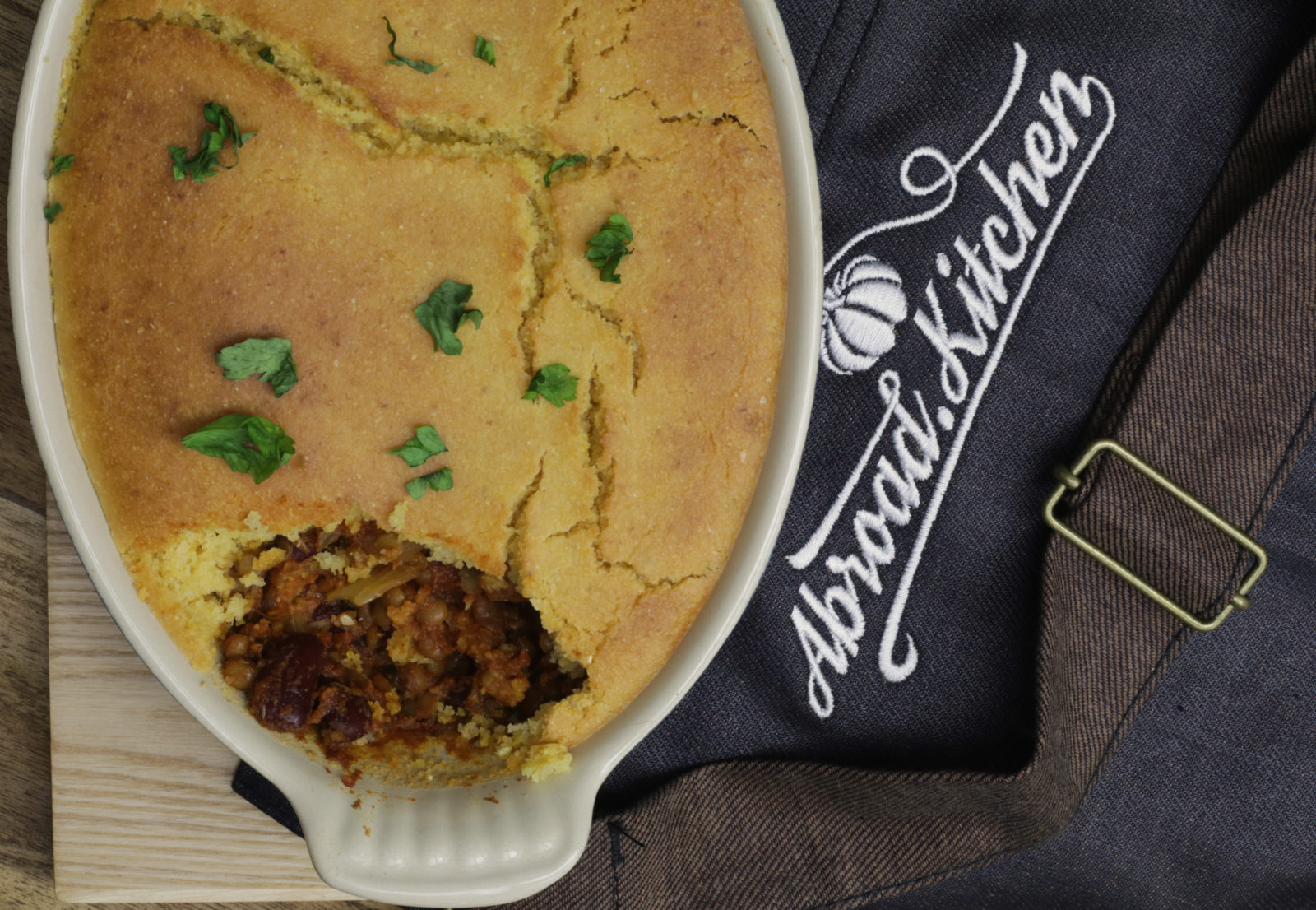 Come to Australia they say, it is never cold they say… What they forgot to mention was that houses don't usually have a heating system because if this, and this year winter is being so absolutely cold. Ok, not Canadian cold but close to 0 anyway. So, partly because we were craving comfort food and partly to have an excuse to get some heat from the oven, I decided to prepare this dish. It has everything: spices, sweetness from the bread and a wonderful golden colour. Personal suggestion: if you can, prepare the chili one day in advance and let it rest for the best flavour experience!
Ingredients for the chili
3 cans of lentils
1 can of red beans
1 bottle of plain pasta sauce
1 big onion
2 cloves of garlic
1 red capsicum
1 tsp ground cumin
1 tbs ground coriander
1/2 tsp chilli flakes (to taste)
1 tsp mild paprica
1 tsp dried oregano leaves
1 carrot
1 celery stalk
1 spring fresh rosemary
2 springs of thyme
For the cornbread (don't panic for the number of ingredients, it is really easy!)
120g white flour
150g cornmeal
15g cream of tartar (or baking powder)
20g sugar (demerara)
1 pinch of salt
260g soy milk (unsweetened)
10g white vinegar (rice vinegar or apple vinegar are perfect as well)
50g sunflower oil
Let's start with the chili. First of all, mince the carrot, onion, celery and garlic. Heat 2 tbs of extra virgin olive oil, and then add minced veggies. Add the spices, and cook at high heat until the veggies are soft. Drain the lentils and add to the pan, and stir fry for a couple of minutes. Lower the heat, add the tomato sauce, the thyme and the rosemary. Cover and let it simmer for 30 minutes. My rule of thumb to understand when it is ready, is to keep an eye on the tomato sauce: when it changes colour and turn into a darker red, then I know it is ready.  Transfer the chili into single portion oven proof pie dishes: leave at least one c, between the chili and the top of the dish. Set aside.
Heat the oven at 210º. Prepare the corn bread. Mix the soy milk with the vinegar, and set aside for 10 minutes. Mix the cornmeal, the flour, the cream of tartar, the sugar and the salt in a bowl. Add the oil and the milk&vinegar, and mix well. You should have a creamy mixture, but not too runny. Pour the mixture on top of the pie dishes so it it reaches the top edges. Transfer into the oven and cook for 20 minutes until golden.
Personal suggestion? I am not a 'spicy' girl myself, so I recommend a milder flavour with a nice Belgian beer (I particularly like Leffe Radieuse); if you prefer to add more chilli for a hotter version, a nice Corona is the go to.
I'll leave you tonight with "I'm feeling good" Michael Buble' version because… just because. Enjoy!