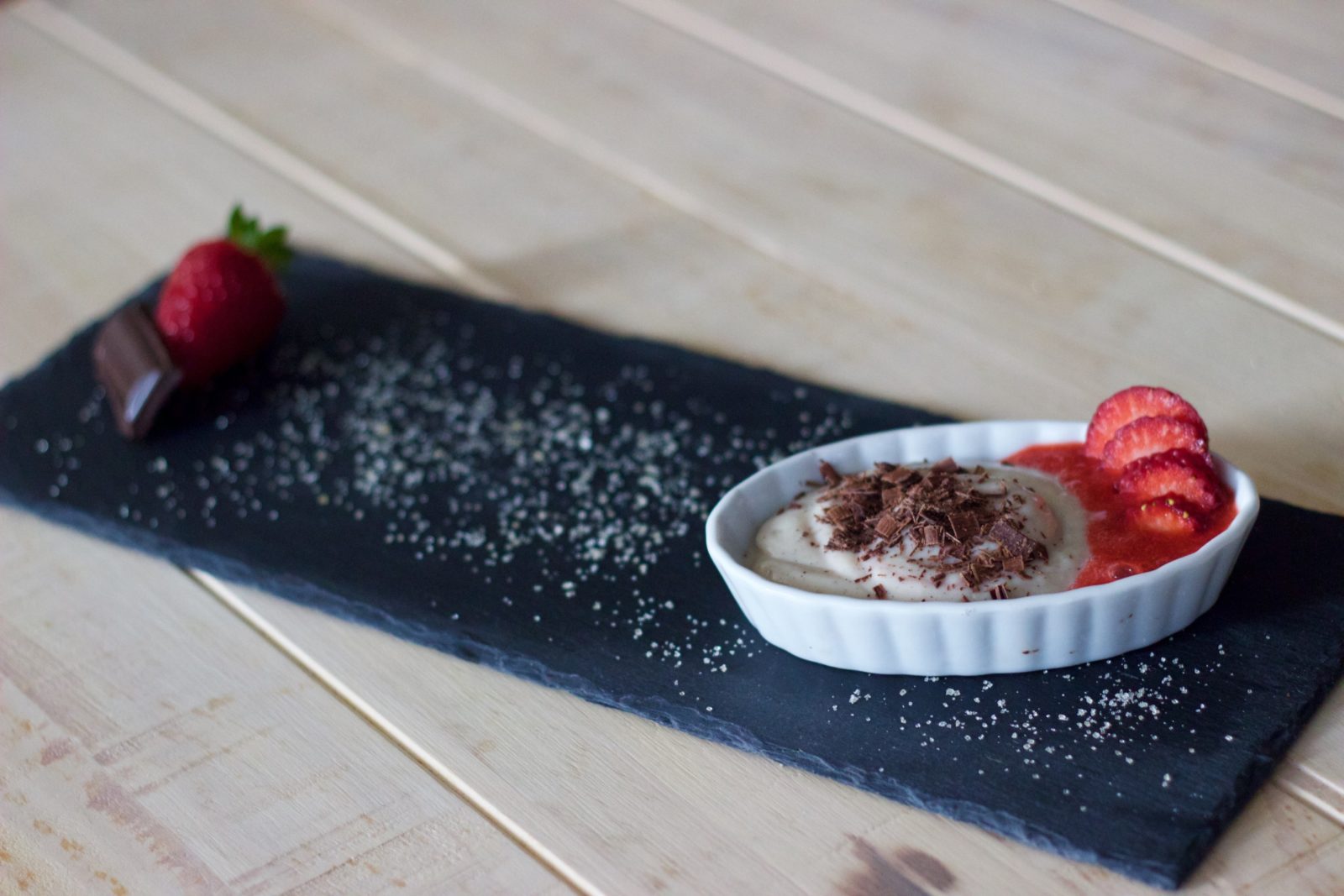 Wow guys, seriously… where did this week go?? It is Sunday already! I am finally out of my backache so I can start cooking again, and I am trying to write my new recipe despite my cat Kara fascination with my Mac. Seriously, she loves my computer more than me…. Anyhow, to re-start nice and slow, I decide to prepare a nice Vegan custard! This comes directly from my vegan cooking lessons, and it is not only full of flavour, but can be personalised with pretty much whatever you like. No one will ever know it's vegan unless you decide to share the secret. Here we go… And happy Sunday morning from DownUnder!!
Ingredients
500ml Soy Milk
1/2 tsp Vanilla powder (Bourbon Vanilla works the best, or you can use 1 Vanilla bean)
2 Tbs Agave syrup
50g Cornflour
Lemon zest
For the sauce:
5 Strawberries
1/2 Tbs lemon juice
1 Tbs Apple concentrate (if you find it, you can substitute with agave syrup)
First of all, dissolve the cornflour with a little bit of soy milk in a cup or a glass, and set aside. Then, pour the rest of the soy milk in a small pot with the Vanilla powder (or the Vanilla bean) and bring it to the boil. Now watch out not to burn the milk, however make sure it is boiling before getting to the next step. If you fail to do that, the custard won't thicken. Remove the pan from the heat and pour the cornflour/milk mixture in, and mix quickly with a whisk to avoid lumps. Add then the lemon zest, the agave syrup and pour into a bowl to cool down. If you'd like, you can add at this point 50g of dark chocolate, for a quick alternative.
For the sauce, simply put the strawberries (but Raspberries work as well), the syrup or the apple concentrate and the lemon juice into your blender and mix well.
Whisk well the cooled down custard, transfer it in your serving bowl and add the strawberries sauce. Set aside in the fridge until it's time to serve.
Here you go! I told you it was simple…. This morning I have this lovely 90's glory on my radio: Sacrifice by Anouk