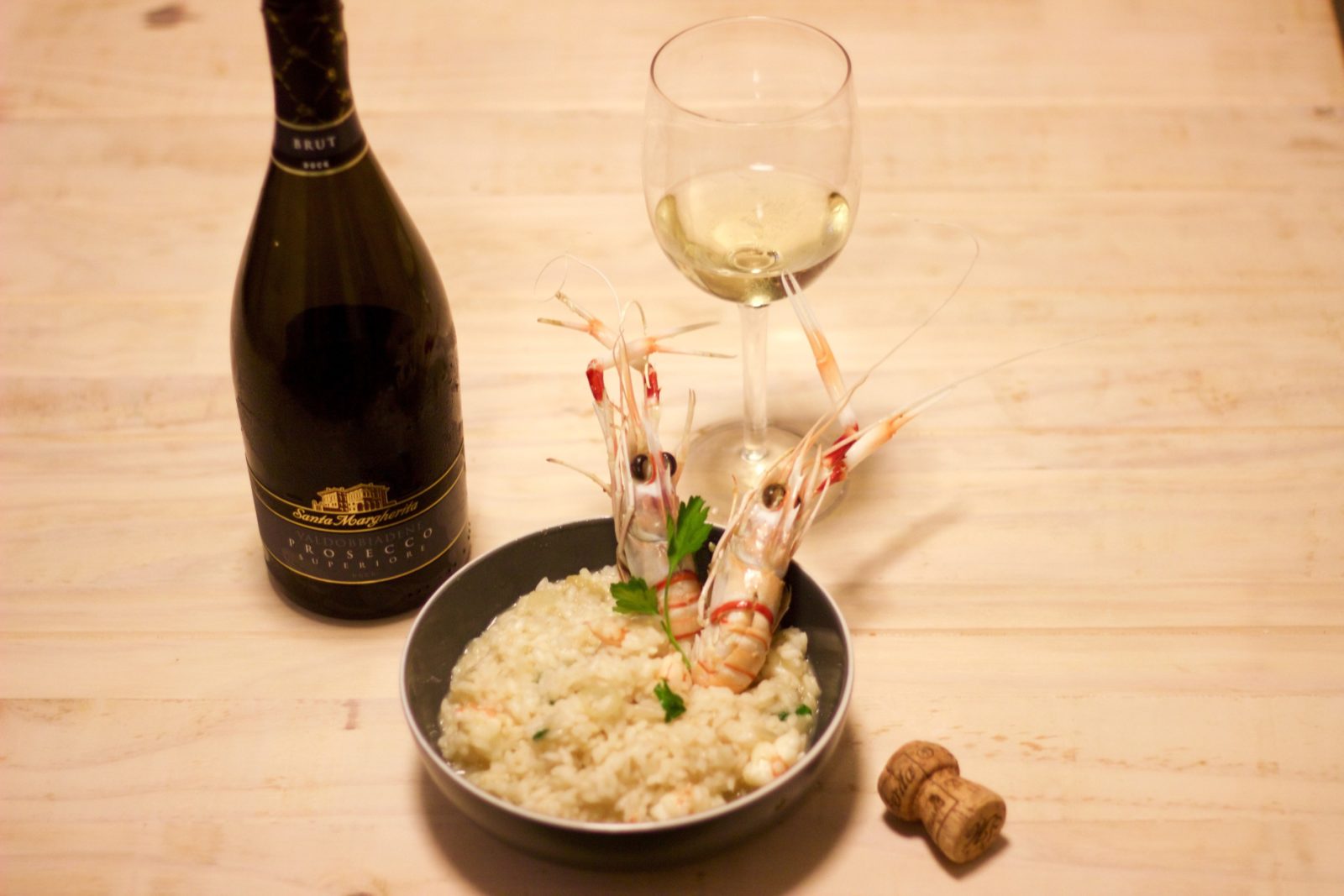 Hello beautiful people! So, where I have been you ask? Well I won't pretend: at the moment there is much going on that I barely have the time to cook (which makes my pizza place particularly happy). Just yesterday I had my IELTS test, and I am still looking for a new place to live, I have to buy presents for my friend baby shower and I am particularly busy at my daytime job. I promise now I will be back on track with the blog, and to celebrate the (hopefully) end of my studies, I am ready with some amazing stuff I prepared to celebrate!
Today I would like to share with you my Scampi prawns risotto recipe. The first time I had it, I was 13 years old and we were at this amazing little restaurant in Asolo, Italy. It was really delicious, so I decided that I would cook it myself and I started trying. Now this is one of my husband favourite dishes, and we save it for special times. Why you ask? Well… as much I absolutely adore scampi and fish in general, let's be honest, the preparation can be gross, and pretty long, so it is not ideal for a quick meal. But believe me, it is worth it!
As usual, please chose good quality ingredients and fresh shellfish. I personally have to thank the Sydney fish market for that!
Ingredients (serve 4):
8 scampi (prawns)
4 shallots chopped
300g King Prawns
1/2 onion
2lt salted vegetable stock
salt
butter
extra virgin olive oil
2 cups carnaroli rice (or Arborio, or any Risotto rice you can find)
1 cup dry white wine (the same you are going to drink during the dinner)
Parsley  taste
First of all, clean the prawns, remove the external shell and keep it aside. You can keep also the heads if you like, to prepare the stock. This is not a classical fish stock, but it reinforces the taste anyway. Heat 2 tbs of olive oil in a pot, add the finely chopper onion and 1 clove of garlic if you like. Once the onion starts to get slightly golden, add the prawns shells (and the heads if you like). Stir fry quickly until the shells get golden brown as well, then add the stock and bring it to the boil. Let it it simmer for at least 30 minutes, then remove the shells.
In the meantime, melt the butter in the pan you are going to use to cook the risotto, add the finely chopped shallots,  and once they get golden, add the Scampi chopped in half but with they shells and heads. Cover for a couple of minutes, then remove the shellfish. Add the chopped prawns flesh, and cook at moderate heat for about a couple of minutes. Again, remove the shellfish and set aside.
Now turn on to medium heat, add another 20g of butter and, once melted, add the rice, and keep stirring. At this moment, you should also have your stock pot next to you. Once the rice gets shiny (it should take one minute or so) pour the wine. Be careful if you have a fire alarm, because, I guarantee you, it will go off. Apparently that's what happens when alcool evaporates. My cats strongly recommend you to leave the bedroom door open, so they can hide under the bed in case that happens.
At this point, it is time to add the stock, ladle after ladle. If you want a super creamy risotto, just wait until the first ladle has evaporate before adding the second one, and so on. You should add 2 ladles at the time tops, and keep stirring. Please, don't forget to keep stirring, you stop one second, the rice will feel ignored and will stick to the bottom of the pan and get burnt just to get back at you.
Once the rice is almost cooked, I'd say 2 minutes away, add the prawn, stir, add the butter to give it its creamy texture (in Italian we say "mantecare"), and add the Scampi on top to slightly reheat them.
Serve immediately, on a bowl with 2 scampi on top and pinch of chopped parsley. Traditionally shellfish and fish in general don't go with cheese, so no parmesan for me here. Enjoy!
Music for the night, a very soothing and wonderful Sunrise, by Nora Jones.