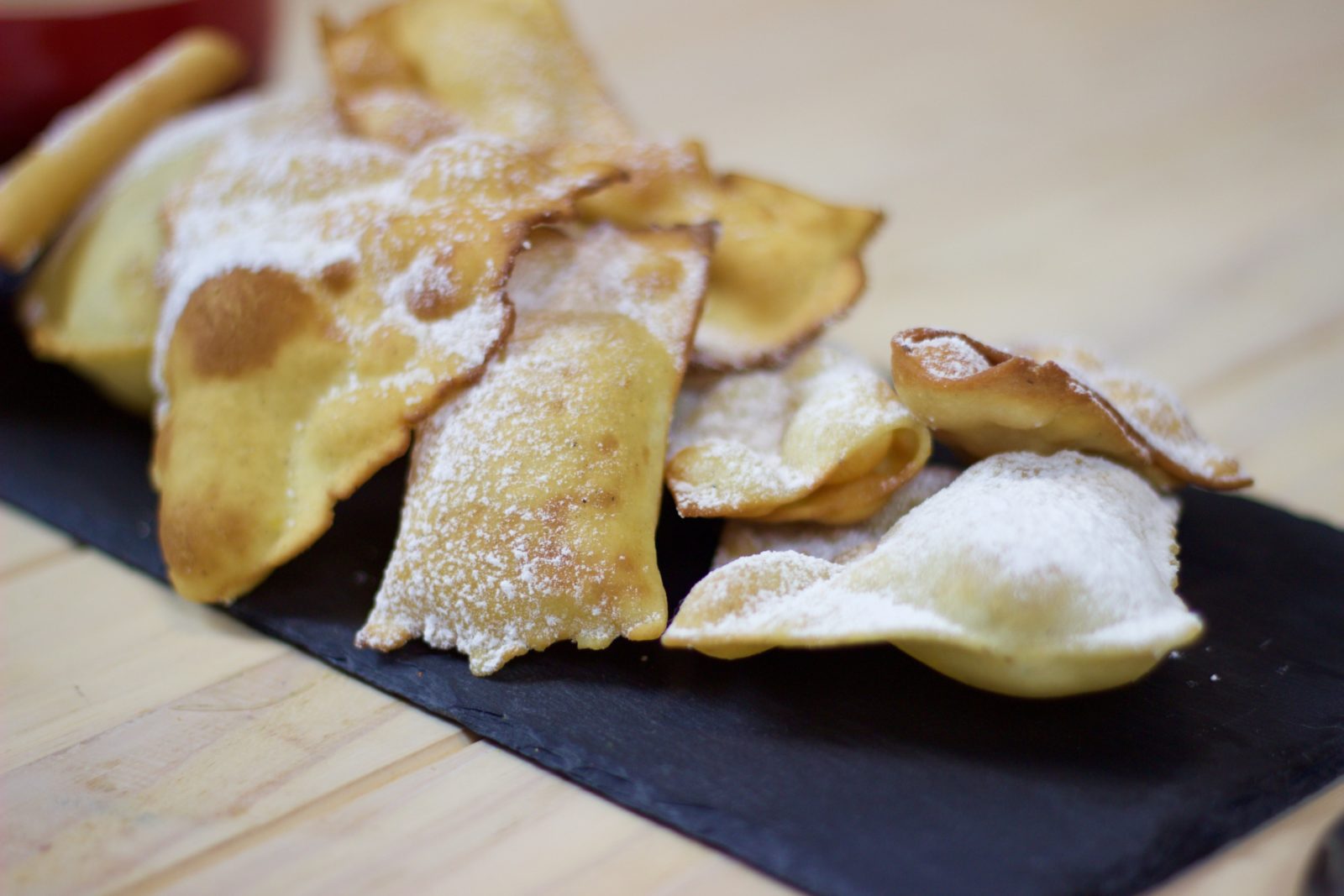 Today it was a rather gloomy day, perfect to dedicate some time to the kitchen and in particular to a sweet recipe. If you have never heard of crostoli, they are a special cake we normally prepare during Carnival in my region, and in all northern Italy. It is a pastry and the consistency of the raw dough reminds of the texture of fresh pasta, but it is sweet and has to be fried. The result is a golden, airy square that might be filled with Mostarda Vicentina (a special kind of spicy jam made mainly of quince and mustard syrup) as my grandma used to love, or simple custard or even chocolate. I prefer them plain, so I can better appreciate their crunchiness.
Make no mistake here, making crostoli is not easy, not because it is a complicated process, but in order to get a good result, the frying oil has to be at the right temperature, and you'll need to take out the fried crostoli as soon as they swell and they have a lightly golden color. It used to be a family affair when I was a kid: normally it involved my mum, my brother, me and my grandma. Traditionally I cut the dough, my mum and my brother used to fry and my grandma transferred the cakes from the absorbent paper to the serve plate and dust them with caster sugar. It was one of the "Family recipes", together with Frittelle (sort of mini doughnut), Crespelle (savoury crepes) and Lasagne, and one of my most cherished memory. The result was a kitchen full of cakes that lasted 1 day top, my mum complaining about the smell (it is frying after all) and my brother taking the hot oil out very very carefully and me and my grandma cleaning up the mess (have I already said it's frying after all?)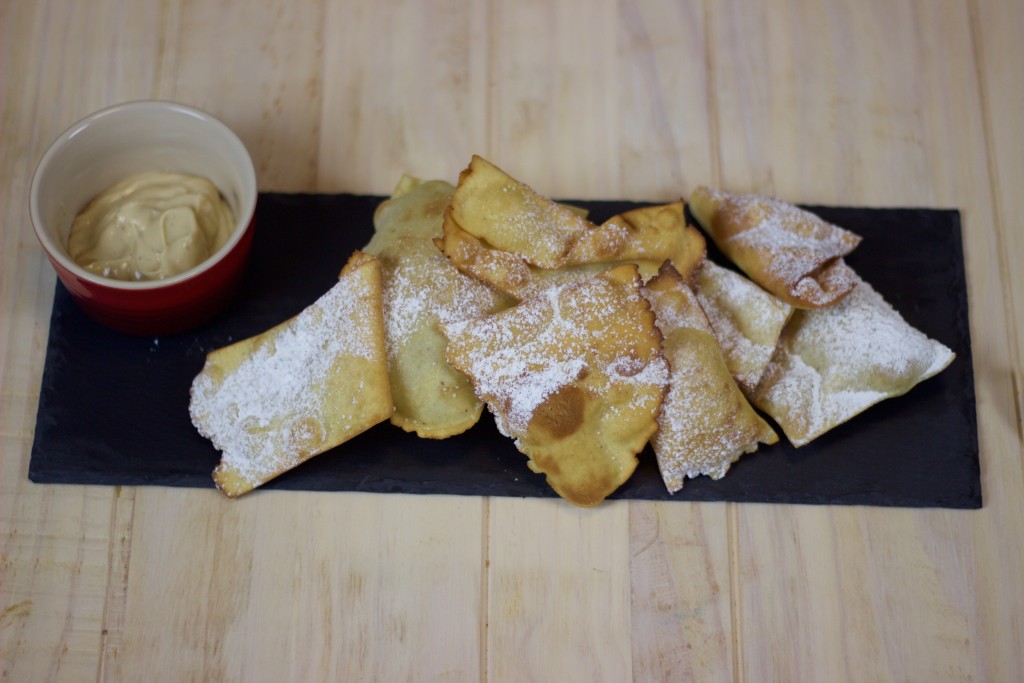 Ingredients
500g white flour
3 eggs
30g brown sugar
50g of melted butter
1/4 cup of Grappa or Rum
lemon zest
1/4 tsp powdered vanilla beans
Peanut oil to fry
In a bowl (or your standing mixer) mix the flour with the sugar, the eggs, the butter and the Grappa. Combine well, transfer the mixture on a wooden board slightly dusted with some more flour. Knead the dough until it gets even, smooth and quite elastic. Leave it to rest in the fridge for 30 minutes.
In the meantime, prepare your pasta machine to roll the dough. You can do it by hand as well, just keep in mind that it has to be really thin, no more that 3/4 mm. Take out the dough, cut it in 16 pieces (more or less) and start rolling! With my machine, I usually start with number one, and I roll each piece twice. Then I move to 2, roll twice again, then cut each piece in 3. I move then to 4, and then 5. Don't forget to cover the sheets to avoid to dry them out. Cut the resulting sheets in smaller pieces, ideally with a pastry cutter.
Pour at least 2lt of oil in a deep large pan (I used a wok, but I am not sure it is the best solution), and heat it up until you see few little bubbles surfacing. At this point, I add carefully a piece of pastry to the oil. If it stands at the bottom, the oil is still too cold. If it resurfaces in few seconds, surrounded by bubbles and it start swelling then you'll have the right temperature. Start adding the raw crostoli very carefully, and make sure there is not a single drop of water around if you want to avoid disasters. My suggestion is to add 3/4 pieces top at the time, according to the dimension of the pan you are using. Wait 10 seconds, until they resurface and form bubbles, then turn them around and cook another 10 seconds. They should look slightly golden. Take them out of the pan, onto paper to absorb the excess oil, then into a serving plate. Finally, a good dust of caster sugar.
Once you finished turn down the heat, and add a piece of old bread to avoid the oil to burn in the hot pan.
Please, please, please, be carefull, and lock kids and pets out of the kitchen! And no water! I was particularly clumsy at the beginning, but believe me, getting burned by boiling oil is horrible, and I talk form personal, direct experience!
Last night I went to an amazing 70's disco style party, so I'll leave you tonight with Light my fire,  by The Doors.