Mon beau sapin, roi de Noel…. sorry what? Xmas brings back memories that one wouldn't imagine still to have, just like carols learnt in French….sooooo bizarre!
As I have already mentioned, it is still pretty difficult for me to get used to enjoy Xmas holidays in summer, and despite my efforts to take what good Summer has to give, I find myself bringing home a nice pumpkin, ready to be cooked in the oven with typically winter condiments. What can I say, spirit is strong but…. and this pretty much sums up all my attempts in following a diet. What the heck, being far from family is also a good reason to indulge. And we really indulged, especially with the amazing dinner we had at our friends' place on the 25th, which I hope I can tell you more soon!
Now, I combined in this dish things from different areas of my brain, and part of it is made from my memories of my beautiful sister-in-law pumpkin gnocchi. If you have never tasted gnocchi, well I'll do my best to cover those soon! Have fun, and enjoy!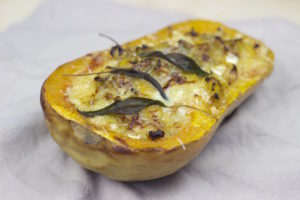 Ingredients
1/4 cup of sliced almonds
1/4 cup Cashew
1/4 cup peanuts
1 butternut pumpkin halved
50g butter
10 sage leaves
1/2 onion
2 cloves of garlic
100g brie cheese cubed (or Gorgonzola if you like stronger flavour)
50g of parmigiano, grated
salt&pepper
Wash the pumpkin peel and take out the seeds. Sprinkle a pinch of salt on both half of the pumpkin and wrap in aluminium foil. Put the tray in the oven at 180º for 50 minutes.
In the meantime, toast the nuts, let them cool down and crush them in a mortar (a grinder works fine as well). Set aside.
Slice the onion thinly and crush the garlic. Add the butter in a pan to melt and get slightly brow. Add garlic, onion and 5 leaves of sage. Let it sizzle for a couple of minutes until the onion is golden brown. Take off the heat and set aside.
Take out the pumpkin from the oven and carefully unwrap the halves, keeping in mind there is going to be some hot steam coming out. Carve the pumpkin (just 1 cm from cavity to the end) and fill the cavity with the cheese, the nuts and the butter/onion/garlic mixture, and put back into the oven.
Cook for another 15 minutes and lastly grill for a couple of minutes until the cheese is brownish and bubbly. And here you go!
I have a special treat in mind… "Last Christmam" by Wham and just because we are talking about the 80's,  "Moonlight shadow" by Mike Oldfield. Love guys!