I LOVE holidays (and the Cliche' Queen is back), mainly because, well, I'd love to say because I have some much time to do the things I normally don't do, but  the truth is because I can sleep and eat as much as I want. Things which technically I normally can't do but… well let's stay focus, and pretend to be adventurous!
During the few days I got the chance to stay home, I got familiar with my new kitchen ( induction stove, I am talking about you!), I bought some new equipment ( brand new pots and pans) and got an amazing present that is currently mocking all the rest of the small appliances in the house because of all the attention it gets. My lovely hubbie got me a standing mixer which is for most of you normal stuff, but it is a dream come true for me! I haven't named it yet, but this will happen soon, I promise.
I decided then to test it with a difficult task, kneading bread! Now the recipe is  super easy, it is  just a matter of time, and you will need to use your hands anyway, but I have to say that Standy (let's call it this way for now) was excellent in avoiding me the sticky part of the dough process.
Just a few words on the  bread: this recipe needs to be started the night before you actually need the bread to be ready, it is really easy and the result is guaranteed! I prefer to use Spelt flour because of the richer taste but it works perfectly well with wheat flour, both wholemeal and white. Get ready for a tasty food and heavenly scented home!
Ingredients
Polish (Bread starter):
250g White spelt flour (you can make 100g Manitoba and 150 Wholemeal Spelt flour)
2g dried yeast (yes, you read it right)
1tsp honey (or agave syrup)
250 ml lukewarm water
Bread:
180g Wholemeal Spelt flour
2 Tbs extra virgin olive oil
2 tsp salt
1/4 barley malt (if you have it, it works perfectly even without it)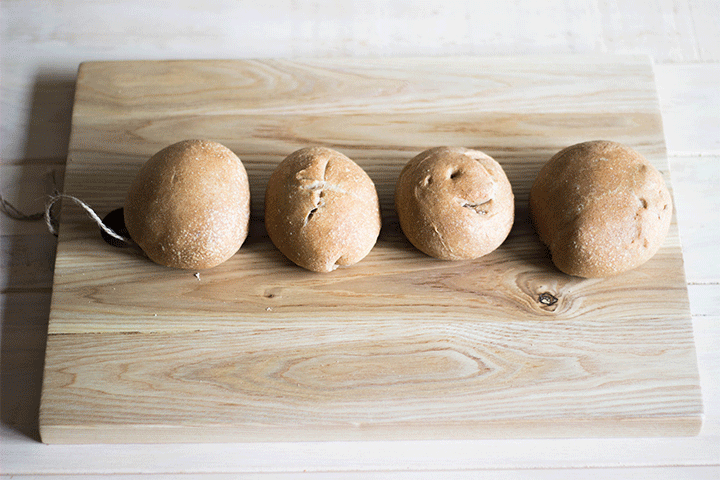 Mix the yeast wth a bit of water and the honey and set aside for 15 minutes. Once you have done that, whisk all the ingredients in a bowl. Don't forget to choose a rather big bowl as the mixture will increase of volume. Cover with cling foil and punch some holes on the top to allow the oxygen to pass. Leave it to rest in the oven for 10 hours at around 20/21°. I usually leave it overnight but if it is really hot, I think 6/7 hours are enough.
Once the right time has passed, add the bread ingredients into the mixing bowl and mix with the kneading tool. Add the polish and mix everything together with speed 1/2. Once mixed well, you should have a slightly sticky dough. Transfer it on a wooden board dusted with flour and knead for another 5 minutes incorporating as much air as possible. Add a bit of flour if it is still too wet. At the end it should be even and smooth. Set aside for 2h hours at 27°. If you don't have a oven thermometer (neither do I) simply turn on the oven at the minimum temperature for 1 minute, then turn it off. Cover the dough with a hot damp towel and put it in the oven for another 2 hours, it should double the size.
Take the dough out of the oven, cut it in half or shape it as you like, and let it rest in the oven for another 2 hours (last ones I promise!)
Take the raw bread out of the oven, turn the oven on at 220º and bake for 15/20 minutes, until golden brown.
Tip: it is delicious steaming hot, but wait 10/20 minutes before cutting it. It preserves in an airtight container for 3/4 days, but believe me, it won't last that long!
And tonight, I'll leave you with Riptide, by Vance Joy!