Believe it or not, not all Italians are plumbers named Mario or Luigi, and most definitely not all Italian women are blondies named Peach. However, I can rather confidently say that all Italians love pizza, and this is not just a stereotype. We grow up waiting for the magic night were mom and dad either bring us to the pizzeria or order home delivery, and it was always a little bit of a party. No wonder that wherever we go in the world, if we plan to stay, we look for the perfect pizzeria, which, unfortunately, is never like the one we remember from home, and it doesn't matter if the pizzaiolo (pizza-maker) has won 3 times in a row the Worldwide Pizza competition… still memories are better than reality most of the times. One thing, and I am terribly serious now: no Pineapple in your pizza. No. No. No. I said no.
Funny enough, not everybody knows how to actually make pizza. This recipe is a little homemade wonder, passed on from my father to my brother and me, it is amazingly simple, tasty and light. Never forget this golden rule: Pizza is such a simple dish that the real secret is to have super fresh, good quality ingredients. No, no Pineapple I said! Side note: this version is not the super thin, wood-fire oven cooked version you can find in a restaurant, but a more rustic, squared and taller version. It misses the smoky flavour, but you can eat as much as you want, and add on top whatever additional ingredient you can think of. I said no Pineapple!!!!! Nutella is the only sweet ingredients that is acceptable. And not together with tomato and mozzarella, please.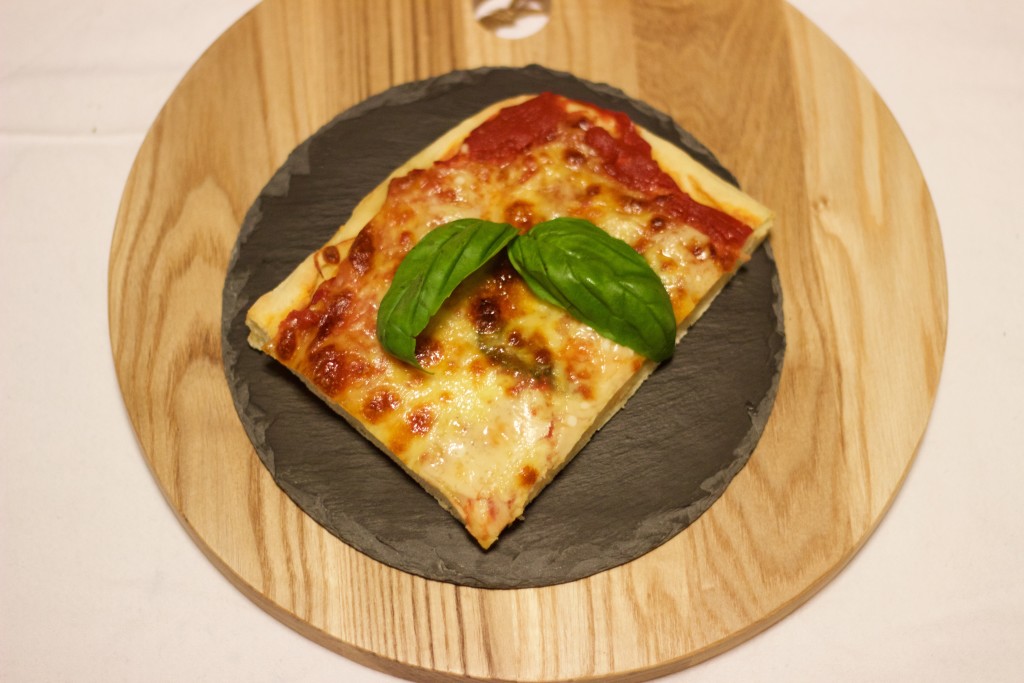 Ingredients
500g white flour (spelt or wholemeal flour are equally great ingredients)
2 tsp dried yeast
1/4 tsp honey
1/2 tsp salt
3 Tbs extra virgin olive oil
2 fresh mozzarella
1 buffalo mozzarella
1 bottle of tomato passata
1 clove of garlic
fresh basil or dried oregano, to taste
other ingredients, to taste
To get the most of your flavours, first of all pour the tomato passata in a bowl. Crush and dice the garlic, and add it to the bowl. Add a couple of springs of basil (or 1/2 tsp dried oregano), cover with clinging paper and set in the fridge until the dough is ready.
Mix the honey, 1/2 cup of warm water and the yeast and set aside for 10 minutes to activate the yeast. Now, most of the current dried yeast instructions will tell you that there is no need to re-activate the yeast. My suggestion is to do it anyway, and the dough will rise better, and be much fluffier.
In your food processor, or in your standing mixer with the kneading tool, add the flour, the salt and the olive oil and mix well together. Add the yeast, start mixing again and add some more lukewarm water until all the crumbles stick together and make your dough. Ideally, it should be quite soft but not enough to stick to the side of the food processor. Please stay more on the soft side, you can add some more flour afterwards.
Sprinkle some flour on a wooden board or on your kitchen counter, and knead the dough for another 5 to 10 minutes. This helps to incorporate air and get the mixture together. Put it back in a very big bowl, cover with a damp cloth and set aside in a warm place to allow to raise. When it is particularly cold, I usually turn on the oven light (only the light) and leave the bowl in there for at least 2 hours.
Roll out the dough on a cooking sheet, spread the tomato sauce and sprinkle on top the diced mozzarella. If you use the buffalo mozzarella, just be careful as  it tends to get quite watery.
Bake for 15/20 minutes at 180°, until the mozzarella is melted, slightly blubby and golden brow.
If you wish to add other toppings, please do it before baking the pizza with some exceptions. Prosciutto, thinly sliced pancetta, rocket or mascarpone have to be added once the pizza is ready. My top favourite toppings?
Well, let's see… pumpkin, blue cheese/gorgonzola and walnuts, prosciutto&mascarpone, prosciutto&rocket, grilled veggies (zucchini, eggplant, capsicum and mushrooms), zucchini&brie, parmesan flakes, hot salami, ham&mushrooms (Noooo I said not pineapple!), prawns, cherry tomatoes….. do you think I gave you enough ideas?
Tonight I took my inspiration, weirdly enough, from What it is, by Mark Knopfler and Fast Car, by Tracy Chapman. Enjoy!